More info
DJI Inspire 1 Pro
The Inspire 1 Pro is a professional aerial filmmaking and photography platform that is ready to fly right out of the box. Featuring an onboard camera equipped with a 15mm f/1.7 (35 mm format equivalent 30 mm) lens and 3-axis stabilized gimbal, it shoots sharp 16mp stills and stable video at up to 4K. Its retractable landing gear pulls up out of view, giving the camera an unobstructed 360 degree view of the world below.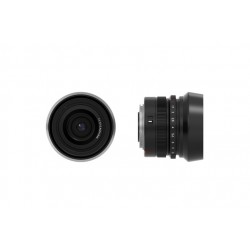 An advanced flight controller makes the Inspire 1 Pro stable, safe and easy to fly indoors or out. The brand new Vision Positioning System (VPS) gives it the power to hover in position at low altitudes even without GPS. Like all DJI flight controllers, it is also able to return home if remote controller signal is lost or if the low battery warning is triggered.
The Inspire 1 Pro boasts a maximum flight speed 18m/s (The maximum flight speed and maximum run time (hovering state) were tested in a lab environment, at zero-level elevation and in windless conditions, and should be taken as reference only.) and a maximum flight time of 15 minutes* using one fully charged 4500mAh Intelligent Flight Battery.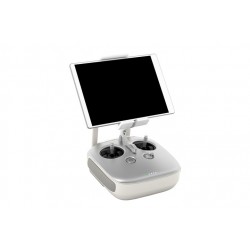 Inspire 1 Pro Features:
Ready-to-fly aerial system
Included professional 4K camera and 3-axis stabilization gimbal (Zenmuse X5)
Live, wireless HD video transmission via DJI Lightbridge
Dedicated remote with flight and camera controls
Powerful app to adjust camera settings, edit videos, and more
Vision Positioning system for GPS-free or indoor flight
Perfect for high-level shoots and professional sets
Aircraft Specification:
Model: T600
Weight: 2870 g (Battery and Propellers Included, Zenmuse X5 Excluded)
Weight: 3400 g (Battery, Propellers and Zenmuse X5 Included)
Maximum Weight of Payload: 3400 g
Max Tilt Angle: 35°
Max Ascent Speed: 5 m/s
Max Descent Speed: 4 m/s
Max Speed: 18 m/s (ATTI mode, no wind)
Max Altitude Above Sea Level: 14,700 feet (4,500 meters)
Max Flight Time: Approximately 15 minutes
Operating Temperature Range: 14° to 104° F (-10° to 40° C)
Gimbal Specification:
Angular Vibration Range: ±0.02°
Controllable Range: Pitch: -90° to +30° Pan: ±320°
Max Controllable Speed: Pitch: 120°/s Pan: 180°/s
Vision Positioning System Specification:
Velocity Range:
Altitude Range: 0.16 feet - 16.4 feet (5 cm-500 cm)
Operating Range:
Operating Environment: Surface with clear pattern and adequate lighting (>15 Lux)
Camera Specification:
Name: ZENMUSE X5
Model: FC550
Sensor: Type 4/3 CMOS sensor Effective pixels: 16M
Lens: DJI MFT 15mm f/1.7 ASPH (FOV72° 35 mm format equivalent 30 mm)
ISO Range: 100-25600
Electronic Shutter Speed: 8 s-1/8000 s
Image Max Size: 4608*3456
Still Photography Modes: Single shoot; Burst shooting: 3/5/7 frames; Auto Exposure Bracketing (AEB): 3/5 bracketed frames at 0.7EV Bias; Time-lapse
Video Resolution: UHD: 4K (4096×2160) 24/25p, 4K (3840×2160) 24/25/30p, 2.7K (2704×1520) 24/25/30p; FHD: 1920×1080 24/25/30/48/50/60p
Max Bitrate Of Video Storage: 60 Mbps
Supported File Systems: FAT32 (≤ 32 GB), exFAT (> 32 GB)
Photo Formats: JPEG, DNG
Video Formats: MP4/MOV (MPEG-4 AVC/H.264)
Supported SD Card Types: Micro SD, Max capacity: 64GB. Class 10 or UHS-1 rating required
Operating Temperature Range: 32° to 104° F (0° to 40° C)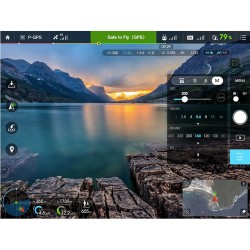 Remote Controller Specification:
Name: C1
Operating Frequency: 922.7 MHz-927.7 MHz (Japan only) 5.725 GHz-5.825 GHz 2.400 GHz-2.483 GHz
Transmitting Distance: 6,561 feet (2,000 meters) (outdoor and unobstructed)
Video Output Port: USB, Mini-HDMI
Operating Temperature Range: 14° to 104° F (-10° to 40° C)
Battery: 6000 mAh LiPo 2S
Charger Specification:
Model: A14-100P1A
Voltage: 26.3 V
Rated Power: 100 W
Intelligent Flight Battery Specification:
Model: TB47, Standard
Capacity: 4500 mAh
Voltage: 22.2 V
Battery Type: LiPo 6S High voltage battery
Energy: 99.9 Wh
Net Weight: 570 g
Operating Temperature Range: 14° to 104° F (-10° to 40° C)
Max Charging Power: 180 W
Intelligent Flight Battery Specification:
Model: TB48, Optional
Capacity: 5700 mAh
Voltage: 22.8 V
Battery Type: LiPo 6S High voltage battery
Energy: 129.6 Wh
Net Weight: 670 g
Operating Temperature Range: 14° to 104° F (-10° to 40° C)
Max Charging Power: 180 W

NOTE: iPad or any display unit is not included
All helicopter were setup and tested by skilled technican before delivery
As 2.4Ghz technology do not require any frequency control. Makes this mode a lot safer to operate and don't have to worry about bringing the wrong crystal to the flying field
Design for PROFESSIONAL pilot